TLC Goldendoodle Photos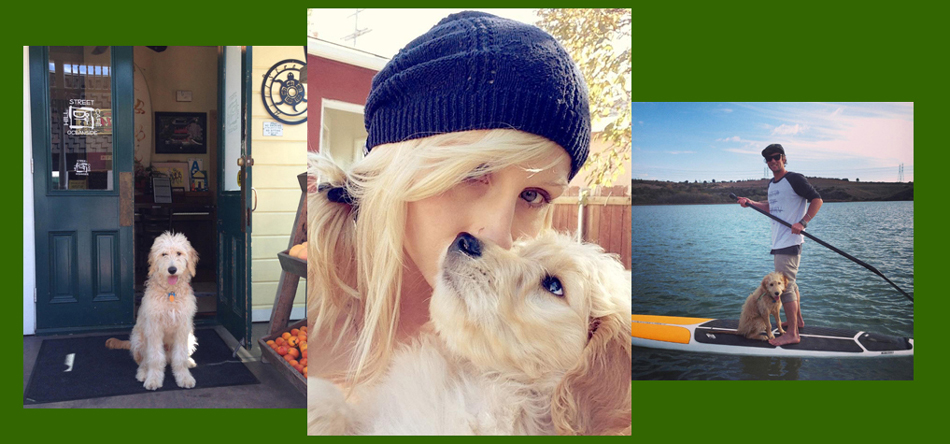 Dakota shopping. Beautiful Taylor with her fur baby, Dakota. Duncan taking Dakota swimming and paddle boarding. Taylor says, "Thank you he's been the best little guy ever! He can play dead already! So Smart! He's turned into the cutest doodle we've ever seen (maybe a little bias!). He's amazing...so happy with him!"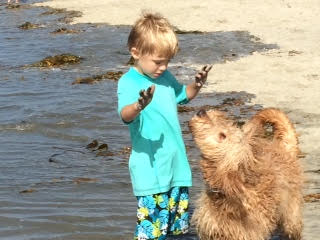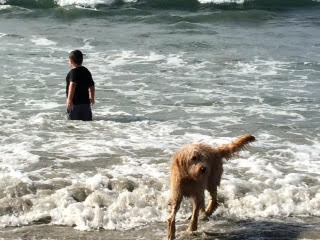 Joan C.'s sons sure love their goldendoodle puppy, Freya. She's 10 months old here.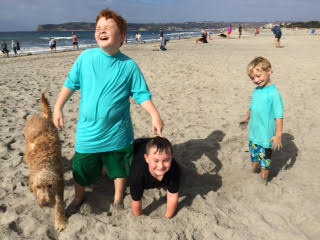 Honey's
"Olive and Wally"


We receive so many wonderful testimonials from the happy families that adopt our puppies. Here's a fun one from Jeff & Paula M. who've adopted TWO puppies from us.: "Hello Yvette, ...Just a couple pictures of Wally & Olive. Both dogs are doing great. They sure love the outdoors. I wish I had a tenth of their energy....I sure love these dogs, they are a lot of fun...."
Jeffrey M.
"Cooper"

Houston & Karina B.
Addison, TX
Jenn W. has driven to San Diego from Las Vegas TWICE to adopt puppies from us! She has such a beautiful family! It's a joy having our puppies go to homes such as theirs. Now her doggies have play buddies.

Finley
(from Cinnamon)
"Hi Yvette, ...I can't tell you how much we love this dog. He is the BEST dog I've ever had. He is so smart and so completely adorable. I post pictures of him on my facebook page a lot and people go crazy for him. One of my friends thinks he is destined to be a famous dog! Several have asked me where I got him..." from Becky C.
From Melissa: "We just love Winnie-she's so sweet and funny. She loves to run and does laps around the backyard. When she's feeling smug, she prances around with her head held high and tail curled up. She knows it's time to come wake me up when Bob puts cream in my coffee, then she'll head for the stairs. She army crawls under our bed to sleep...won't sleep in the doggie bed. She wants to be friends with everyone..."
Jenna & her puppy, Winnie
Sy
Hi. Hope you are doing well in San Diego. We got Sy from you in Mesquite last Spring. He was one of Honey's pups. Just wanted you to know he is a healthy, Very mischievous happy 72 pounds. Here is a picture. No matter how careful we are, he eats at least one sock per day! However, he sure is cute!

Jeri R, TX
Summer

The Timmermans, 2nd place photo contest winners

The Duffners, 1st place photo contest winners
Maggie

Maggie
Maggie

Maggie
Ginger
(from Cinnamon)

Bailey
Bailey

Bailey
(from Honey)
"Quincy"
The Van Kirk family, San Diego

Tucker
(from Cinnamon)
Charlotte

Charlotte
(from Honey)

The Halveys, 3rd place photo contest winners
Lucy

Charlotte
Finn
(from Honey)

Buddy
(from Cinnamon)
Bella

Bella
(from Honey)
Annie

Annie
(from cinnamon)
Annie

Annie
Chewy Bear
(from Cinnamon)

Chewy Bear
Chewy Bear

Skylar


Charley
(from Honey)