Avoiding Puppy Scams
Typical Puppy Scams
1. Outright scammers claiming that they have puppies for sale but do not. They try to get a deposit or payment in full, then disappear. They often use sites like craigslist.

2. People who call themselves breeders but are not. They are actually brokers. Although many of them have a legitimate business, there are problems that occur. They will provide pictures of available puppies but they don't actually have them. When you place your deposit they try to aquire the pictured puppy, sometimes with no success. If the puppies are not born at their site they are supposed to be registered and inspected by the Department of Agriculture. One of our customers told us they had placed a deposit for a gold/red goldendoodle and the puppy that was delivered was black. A beautiful puppy that they loved but it was clearly not what they were sold. Also they claim your puppy is raised with care but they really have no control over how your puppy is raised and socialized.

3. Brokers who disguise your puppy for something that it is not. Recently there was a breeder in San Diego county who was accused of buying cheaper labradoodles from out of state and dying their fur and calling them goldendoodles. They were even ranked high on google and listed as one of the 6 best breeders in San Diego. One unhappy customer reported that DNA testing showed their goldendoodle puppy had German Shepherd mix in it. The breeders have disappeared and many people have contacted law enforcement.

4. Breeders who attempt to run a legitimate business but fail. This isn't a scam but the net result of your deposit disappearing with no puppy is the same.
6 Things To look For To Confirm A Breeder Is Reliable
1. Long term website domain name. Check to see if the breeder has had their website address for a long time. Go to Whois.com and do a search of their web address. You will see the date that the domain name was registered. Here is a screen shot of a search for our domain name. Our details are set to private but you can see that we registered it over 12 years ago in 2010.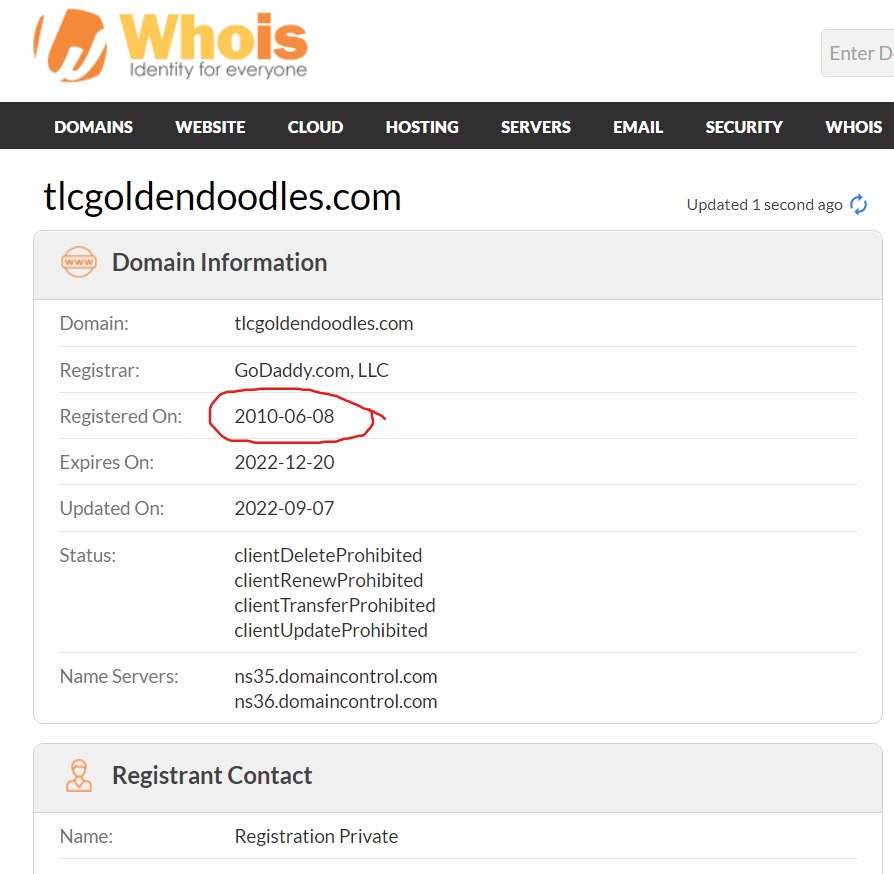 2. Google maps. Look up the location on Google maps. If they aren't listed as a business, why not? If you don't know their location, ask them. If they won't tell you, why not?

3. Google search. Go to Google search and look up their business. Google shows businesses and how long they have been in business as known by Google.
Here is a screenshot of our listing showing that Google knows we have been in Business for more than 10 years.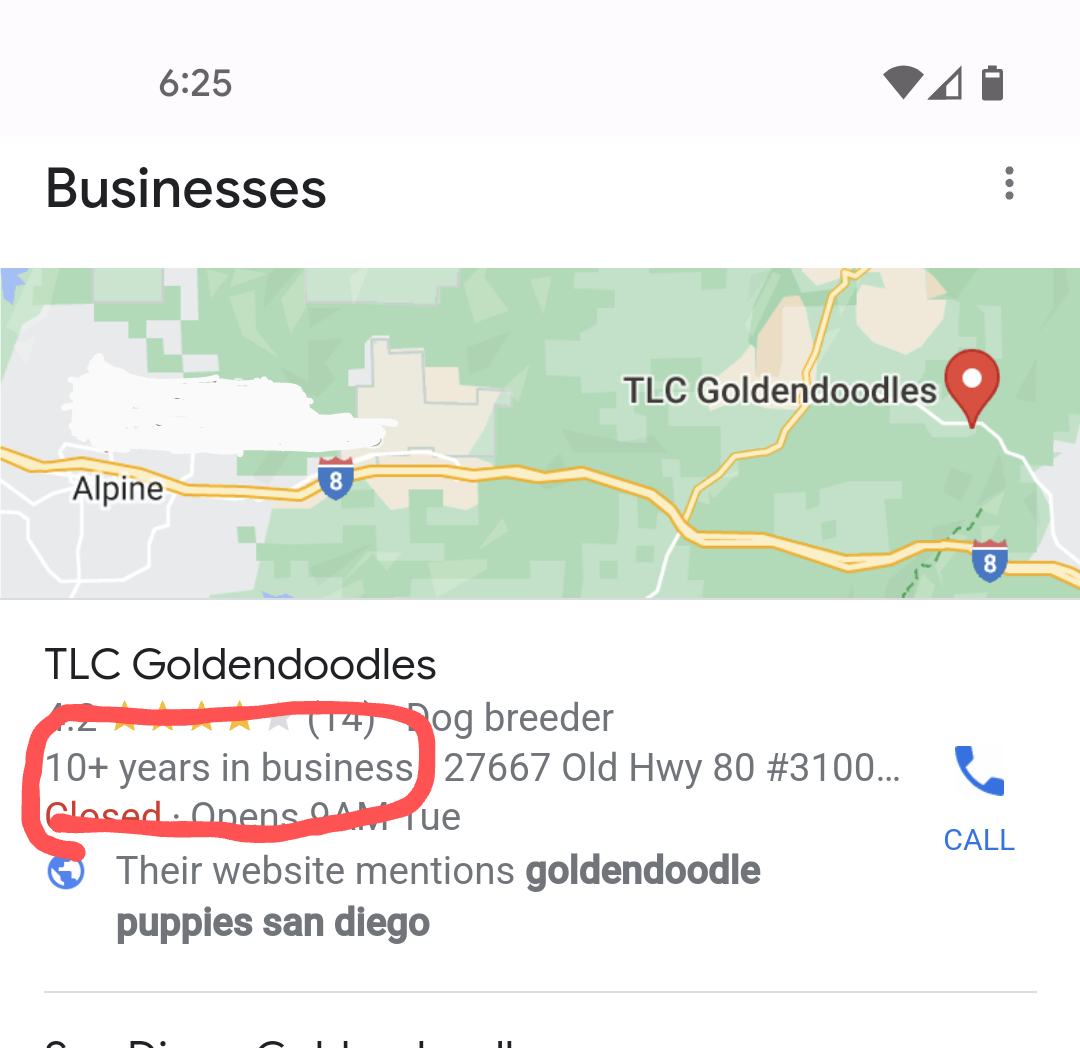 4. Better Business Bureau. Call your local Better Business Bureau and ask about the Breeder you are considering. If there have been any complaints to the BBB about the breeder then the BBB will have opened a file on them and have records about it. Our business is accredited by the BBB.




5. Parent dogs. Ask if the parent dogs are onsite. If not, confirm that they are kept locally like in a guardian home until ready to breed. Brokers and scammers do not have the parent dogs and often cannot provide photos of them. Ask for photos of the parent dogs with the breeder you are talking to in the photo. Try asking to facetime. Scammers will not facetime.
Note: Be cautious that you don't come across as distrusting and accusatory. Legitimate breeders are entering into a contract with you and may be offended at a lack of trust. Don't start your relationship stepping out on a banana peel.

6. Photos. Check their website for photos of the parent dogs, not just the puppies. Look for photos of their puppies grown up with the new owners in the photos. Also, look for photos with the breeder in them with puppies and the breeder with the parent dogs. Another photo to look for is family members and employees with the puppies and parent dogs. Some sites have photos of parent dogs but they are actually 2,000 miles away at a farm.
The truth is that there are breeders who don't meet all of these qualifications but can deliver a good puppy to you. But we have heard many sad stories so be careful.